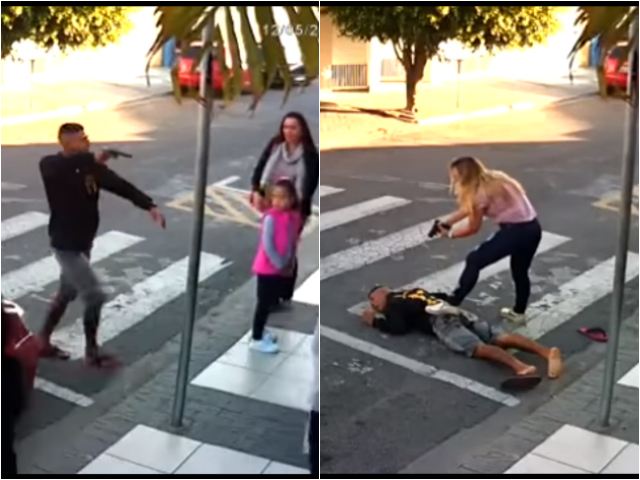 A military off duty police officer, who had gone to a Mother's Day celebration at the school where her daughter is studying in Suzano, shot a suspect in front of the unit. According to the Military Police, the 21-year-old suspect was carrying a .38 caliber revolver and had already approached other mothers awaiting the opening of the gate, as well as having searched the school's security to see if he was armed.

Still according to the PM, the police officer saw the move and heard a woman saying it was robbery. At this point, the police officer moved away, pulled out the gun and fired three times at the suspect.
The suspect succumbed to his wounds.
THIS is the beauty of concealed carry. A sick man walks up to a group of women and children and tries to rob them. A good woman with a gun takes care of him! If she had no gun, they'd likely have all been dead/injured! pic.twitter.com/X1YVzV3djr

— Joey M. (YourVoice™ America) (@JTMYVA) May 12, 2018
It must be noted that gun laws in Brazil are very stringent. So stringent, in fact, that criminals, police, and military personnel are armed while law-abiding citizens are forced to jump through myriad hoops just to purchase a gun for home defense, much less carry one.
And what has such gun control wrought? Insight Crime reported last year that 19 of the 50 deadliest cities in Latin America are in Brazil.
AWR Hawkins is an award-winning Second Amendment columnist for Breitbart News, the host of the Breitbart podcast Bullets with AWR Hawkins, and the writer/curator of Down Range with AWR Hawkins, a weekly newsletter focused on all things Second Amendment, also for Breitbart News. He is the political analyst for Armed American Radio. Follow him on Twitter: @AWRHawkins. Reach him directly at awrhawkins@breitbart.com. Sign up to get Down Range at breitbart.com/downrange.
via Breitbart News
Enjoy this article? Read the full version at the authors website: http://www.breitbart.com