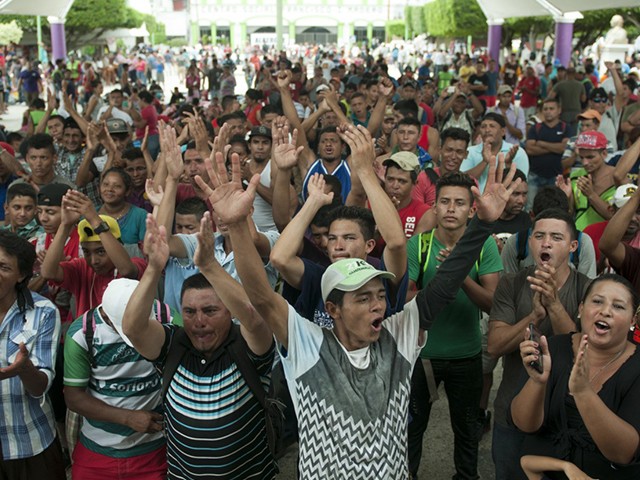 As Mexican authorities continue to deal with two separate migrant caravans on both sides of their southern border, a third began its journey from El Salvador on Wednesday.
While the first two migrant caravans began in Honduras, the third started north from the capital of El Salvador, Reuters reported. The group is believed to be made up of about 2,000 individuals including men, women, and children. The third caravan comes at a time of escalating tensions where the two previous groups clashed with Mexican police forces at the border with Guatemala.
The clashes led to Mexico's warning about the deployment and further potential use of Molotov cocktails against federal police forces guarding the Mexican border, Breitbart News reported. Human rights groups and journalists also called out the Mexican government for its use of a helicopter to push back migrants that tried to wade across the Suchiate River border into Mexico.
#URGENTE Un helicóptero compresiona a la caravana de migrantes hondureños en el agua del rio Suchiate para impedir que llegue a la otra orilla. Numerosos padres de familias se encuentran en el río con sus hijos en brazos, según documentan reporteros de TeleSUR. pic.twitter.com/FQTIFWDhly

— Santiago Botón (@SantiagoteleSUR) October 29, 2018
This week, authorities arrested two Honduran men after they allegedly shot at Mexican federal police officers guarding the caravan. Mexico City unveiled a program to provide temporary employment, education, and healthcare to those who would agree to stay in southern region and follow proper procedure to seek asylum. Immigration officials reported that only 111 of the migrants accepted the offer while leaders of the first and northernmost caravan publicly declined.
The first two caravans became an international political issue as President Donald Trump stated that he would cut foreign aid to Central America if the caravans were not stopped. The U.S. is deploying more than 5,000 troops to the U.S.-Mexico Border states in preparation for the eventual arrival of the caravans.
Ildefonso Ortiz is an award-winning journalist with Breitbart Texas. He co-founded the Cartel Chronicles project with Brandon Darby and Stephen K. Bannon.  You can follow him on Twitter and on Facebook. He can be contacted at Iortiz@breitbart.com. 
Brandon Darby is the managing director and editor-in-chief of Breitbart Texas. He co-founded the Cartel Chronicles project with Ildefonso Ortiz and Stephen K. Bannon. Follow him on Twitter and Facebook. He can be contacted at bdarby@breitbart.com.
via Breitbart News
Enjoy this article? Read the full version at the authors website: https://www.breitbart.com