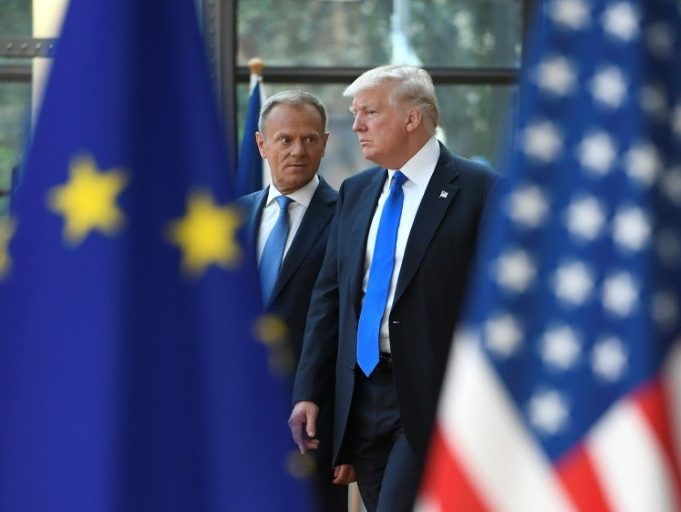 Although U.S. President Donald J. Trump has repeatedly made clear that he is committed to NATO and expects members to pull their own weight within the alliance, European Union leaders have sounded the alarm, blaming the President for endangering the military treaty.
In apparently unironic comments on behalf of nations that have persistently failed to support the NATO alliance and meet their treaty obligations while the United States picked up the tab, European Council President Donald Tusk told European leaders Thursday night: "Despite our tireless efforts to keep the unity of the west, transatlantic relations are under immense pressure due to the policies of President Trump."
In comments at the major European Union summit dinner reported by The Times newspaper, the senior EU figure said: "Unfortunately, the divisions go beyond trade… It is my belief that while hoping for the best we must be ready to prepare our union for worst-case scenarios."
Britain Under Pressure from Trump Administration to Boost Defence Spending After NATO Comments https://t.co/wynOAgPCLg

— Breitbart London (@BreitbartLondon) June 14, 2018
Many European leaders are exhibiting signs of panic over the forthcoming NATO summit in Belgium in July, as Trump is expected to make clear his disappointment that despite all NATO members having reaffirmed their commitment to spending two percent of their national GDP on defence at the 2014 NATO summit, almost none do.
Well over half of all NATO spending is made by the United States — the totals of the next three highest spenders the UK, France, and Germany are more than the total of the next 24 nations added today.
The pessimistic attitude from European leaders comes shortly after Trump's private comments on NATO at the G7 meeting in early June, where he again brought up the overwhelming cost of the alliance that the United States bears. He is reported to have said: "It will be an interesting summit. Nato is as bad as Nafta. It's much too costly for the US."
Doubling down on the President's comments, a spokesman for the National Security Council said it was time for NATO allies to pay their fair share. The Guardian reports the spokesman as saying: "The president is committed to the alliance, as he has stated repeatedly. The president has also been clear we expect our allies to shoulder their fair share of our common defence burden and to do more in areas that most affect them.
"There is no better way to signal Nato's resolve than for each and every ally to allocate the resources necessary to share their burden of our collective defence."
Exclusive: Ambassador Grenell Gives Stark Warning Over 'Woeful' Readiness of NATO Allies https://t.co/Lg7Xk3QbFf

— Breitbart London (@BreitbartLondon) June 3, 2018
It is understood a particular target for President Trump during the NATO meeting next month is Germany, which despite her significant global economy spends a very low proportion of GDP at 1.1 percent — well below the two-point minimum required of treaty members.
Speaking to Breitbart London in early June, U.S. Ambassador to Germany Richard Grenell said he had been told by the President to tackle NATO spending, and remarked: "It is woeful; Germany is the largest economy in Europe. They made a commitment to NATO, and they should be serious about that commitment; it is a multilateral institution that guarantees the allies, guaranteeing freedom.
"Germany made that commitment, and we expect the Germans to follow through… We have yet to see a serious plan put forward as to how they get to that two percent of GDP."
The concern over NATO, and the poor state of defence of many European militaries, comes as video footage was leaked from a joint military exercise off the coast of Norway showing a missile failing to launch from a German frigate. The Vertical Launch System missile was seen to explode inside the pod during a live-fire exercise, showering the ship involved with burning wreckage. There were no injuries, but two German sailors were treated for shock, according to reports.
Oliver JJ Lane is the editor of Breitbart London — Follow him on Twitter and Facebook
via Breitbart News
Enjoy this article? Read the full version at the authors website: http://www.breitbart.com