Rising optimism on the economy among racial minorities is boosting President Donald Trump's chances in 2018, says a poll by Zogby Analytics.
"Even though President Trump receives little support from these groups, things might be going just good enough economically that he can scrape enough support from these groups so that Republicans can retain control of Congress and Trump gets re-elected in 2020," said the June 27 report by Zogby Analytics.
The racial groups are vital to the Democratic Party's elite-led raucous coalition of minorities, and any decline in their 2018 turnout could cripple Democrats' hope of regaining power in the House. For example, African-Americans comprise roughly one-quarter of the Democratic Party's turnout in presidential elections.
In 2016, Trump won partly because African-American turnout fell, but also because he nudged up GOP support among Latinos and African-Americans, especially among men. In November 2016, Trump got 13 percent support among black men and 4 percent support among black women, according to the 2016 exit polls.
There is room for Trump's support to grow, especially if wages and salaries start rising in Trump's "Hire American" economy.
A January 2018 poll by CBS of 2,164 adults conducted in early January showed 14 percent African-American support for Trump. The CBS poll also showed that an additional 22 percent said: "I am against Trump now, but could reconsider him if he does a good job." The same poll showed 24 percent Hispanic support for Trump, plus 28 percent potential support.
The Zogby data shows that 25 percent of African-Americans — and 34 percent of African-American men — now feel "good" or "excellent" about the economy.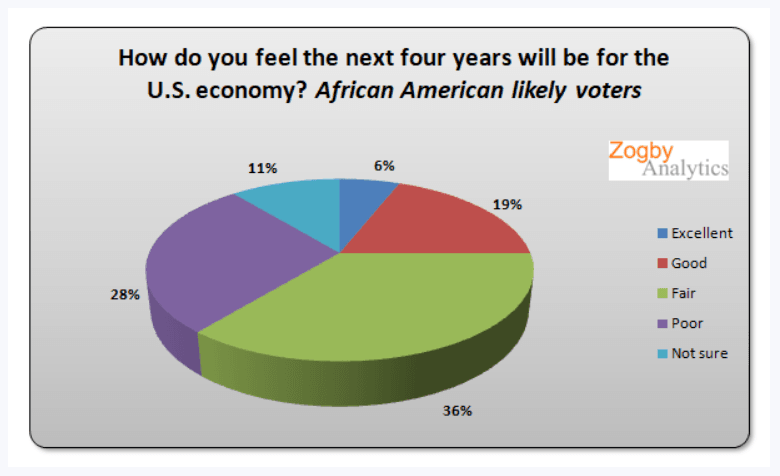 The Zogby data shows that 43 percent of Hispanics feel "good" or "excellent" about the economy.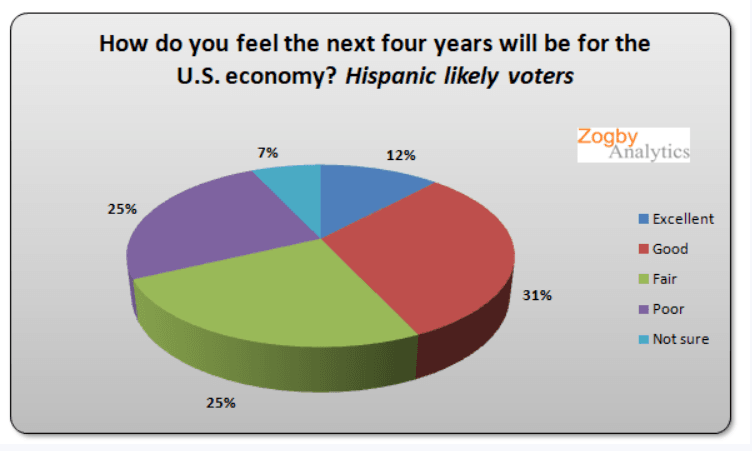 In both groups, men declared themselves to be far more optimistic than the women:
Almost half of Hispanic men think the economy will be good (excellent and good combined) over the next four years; the same amount think things will not be good (fair and poor combined). Nearly two in five Hispanic women think the economy will be good the next four years, while half (51%) think things will be not be good for the U.S. economy …

African American men (34% good and 58% not good) were more optimistic when it came to the economy over next four years compared to women (18% good and 70% not good).
However, Zogby's samples are small. According to the survey:
Zogby Analytics surveyed 354 Hispanic, 321 Asian and 357 African American likely voters nationwide. The poll was conducted online 6/4/18 -6/6/18, and has a MOE +/-5.2 percentage points per group.
via Breitbart News
Enjoy this article? Read the full version at the authors website: http://www.breitbart.com