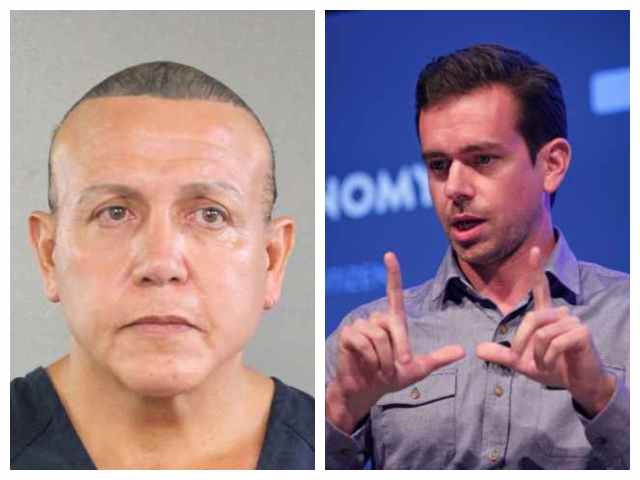 Twitter allowed Cesar Sayoc, the man who allegedly sent apparent bombs to public figures around the country this month, to post more than 240 threats towards 50 different people on its social network without sanction. Meanwhile, the media managed to temporarily force free speech social network Gab offline after it was revealed that the Tree of Life Pittsburgh Synagogue shooting suspect had an account on the platform.
According to CNN, an analysis discovered that "Sayoc tweeted more than 240 threats directed to at least 50 public officials, news organizations and media personalities."
"The threats, and Twitter's apparent inaction regarding them, raise new questions regarding social media and radicalization," CNN declared, adding, "In this instance, Twitter may well have provided Sayoc with the material that radicalized him, and then it stood idly by as that radicalization led to hundreds of threats."
Some of Sayoc's threats reportedly included, "Your Time is coming," "Your days are over," "your (sic) next," and "Hug your loved ones real close everytime U leave your home," while he also sent pictures of decapitated goats to users.
CNN's report did not include all of Sayoc's targets on Twitter. Sayoc tweeted violent images of man-eating crocodiles to liberal Fox News contributor Rochelle Ritchie, a fact mysteriously left out by CNN, which instead focused on anti-Trump celebrity Kathy Griffin, who admitted she hadn't even read the threat tweeted to her.
Free speech social network Gab, however, was forced offline this week after media outlets and figures blamed the platform for allowing Tree of Life Pittsburgh Synagogue shooting suspect Robert Bowers to make anti-Semitic comments on his account — where Bowers also made several posts attacking President Trump and the MAGA movement, which he perceived as Jewish.
Despite this, Gab has a strict policy against threats and illegal content, and in contrast with Twitter, immediately issued a statement condemning Bowers and expressing sympathy for the victims following the crime.
Gab is currently offline, after its web host Joyent gave the social network just 48 hours to migrate elsewhere.
Domain service GoDaddy also forced Gab to immediately move to another service.
via Breitbart News
Enjoy this article? Read the full version at the authors website: https://www.breitbart.com