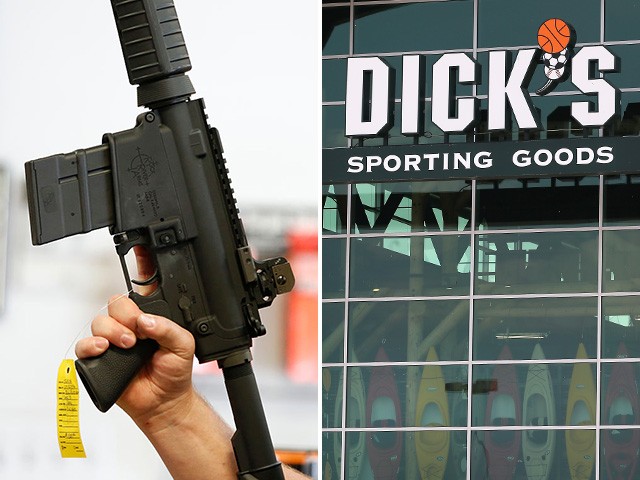 Dick's Sporting Goods saw sales slip during the past three months as a result of the corporate gun control the company adopted in February.
On February 28, 2018, Breitbart News reported that Dick's was ending sales of commonly owned semiautomatic rifles and "high capacity" magazines. They also raised the purchase age for long guns to 21 years.
On April 17, 2018, Breitbart News reported that Dick's was destroying unsold commonly owned semiautomatic rifles rather than sending them back to their respective manufacturers. Dick's also made clear it would destroy its unsold "high capacity" magazines.
On May 2, 2018, the Federalist reported that Dick's was paying lobbyists to pressure Congress to support more gun control.
On August 29, 2018, Breitbart News highlighted that Dick's quarterly sales dropped, and the chain admitted that its corporate gun control contributed to the slump. Two days later, Dick's reacted to dropping sales by adding hunting gear to the list of items it would remove from certain stores.
Now another sales quarter has passed, and Dick's continues to be hurt by its gun control stance. The Washington Examiner reported, "Sales at Dick's Sporting Goods dropped in the past three months amid backlash against tighter gun-sale restrictions following a mass killing early this year at a Florida high school."
The Examiner added, "Revenue dipped 4.5 percent to $1.86 billion amid challenges in the company's hunting business during the quarter through Nov. 3. Sales at stores open at least 12 months – a key metric for the retail industry – fell 6.1 percent compared to the prior year."
The company plans to raise prices in 2019. It says the higher prices are due to expenses incurred via President Trump's tariffs on products made in China.
AWR Hawkins is an award-winning Second Amendment columnist for Breitbart News, the host of the Breitbart podcast Bullets with AWR Hawkins, and the writer/curator of Down Range with AWR Hawkins, a weekly newsletter focused on all things Second Amendment, also for Breitbart News. He is the political analyst for Armed American Radio. Follow him on Twitter: @AWRHawkins. Reach him directly at awrhawkins@breitbart.com. Sign up to get Down Range at breitbart.com/downrange.
via Breitbart News
Enjoy this article? Read the full version at the authors website: https://www.breitbart.com