House Democrats Unanimously Support Waters' Calls For "More Confrontation", Block GOP Censure Vote
In what is perhaps not a shocking vote at all in this insanely partisan world in which we live, The House has just rejected a Republican resolution to censure Rep. Maxine Waters for saying that "we've got to get more confrontational" about police brutality against African Americans.
House endorses Waters's call for insurrection https://t.co/Sp20ZDnM9s

— Dana Loesch (@DLoesch) April 20, 2021
Republicans argued that Waters incited violence with her remarks at a protest over the weekend in Minneapolis.
House Minority Whip Steve Scalise (R-La.) commented ahead of the vote that:
"Right now I haven't heard any Democrats speaking out against what Maxine has said. And it's time for Democrats to speak out when they see it on both sides. They only want to speak out on one side of the aisle, not on both. And that hypocrisy, I think, is starting to shine through."
As The Hill reports, lawmakers voted along party lines 216-210, with no defections on either side, to table the resolution from Minority Leader Kevin McCarthy (R-Calif.) that would have issued the chamber's harshest disapproval short of expulsion.
INBOX: House GOP Leader Kevin McCarthy introduces resolution to censure Maxine Waters pic.twitter.com/oNdNhc27gQ

— Spencer Brown (@itsSpencerBrown) April 20, 2021
…impeachment for thee, but not for me.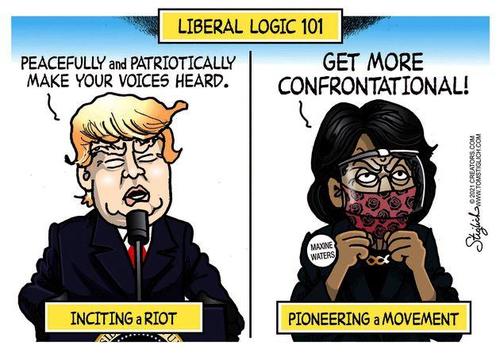 Tyler Durden
Tue, 04/20/2021 – 16:46
via ZeroHedge News
Enjoy this article? Read the full version at the authors website: https://cms.zerohedge.com/