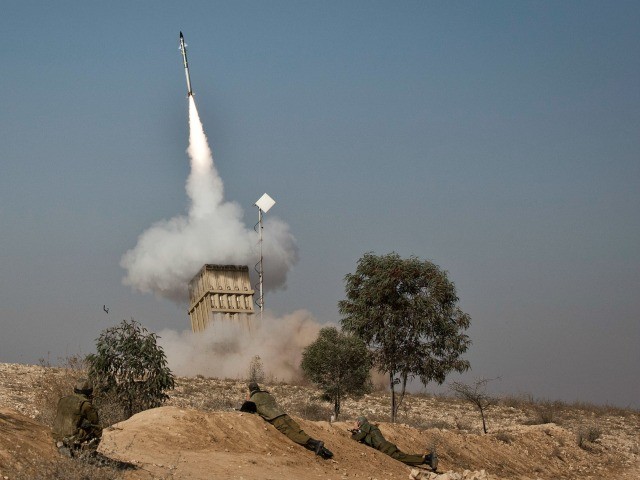 NEW YORK — The sudden, massive barrage of potentially deadly rocket and mortar fire from the Gaza Strip is a transparent attempt by Iran to utilize its Gaza proxies to advance Iran's own aims inside Syria.
Notably, the attacks from Gaza were reportedly carried out in large part by the Iran-backed Islamic Jihad terrorist organization, which could not possibly have launched a rocket campaign of that magnitude against the Jewish state without a greenlight from their controllers in Tehran. Hamas took joint responsibility for the attacks, but according to numerous sources, Gaza's Islamist rulers were not the ringleaders.
The rare barrage saw an estimated 180 projectiles fired into Israel within 24 hours, including mass produced Iranian shells that the Israel Defense Forces say were smuggled into Gaza. One of the rockets hit an Israeli kindergarten before schoolkids were due to arrive.
The Jerusalem Post reported on the extent of the attacks:
Three soldiers and several civilians were wounded by the Gazan salvos and evacuated to a hospital. One soldier was moderately wounded in his legs, while the other two sustained light injuries, the army said.

Earlier in the day, a man was lightly wounded in the head by mortar-shell fragments. Another man in Sderot suffered bruises while running for shelter, and another two suffered from shock. One Israeli was lightly wounded by the morning mortar barrage and was taken to Soroka-University Medical Center in Beersheba in light condition with a shrapnel wound to his hand.

At least 25 mortars from the barrages launched in the morning were intercepted by the Iron Dome missile-defense system, the IDF said. Several others struck open areas.
Israel struck back by targeting dozens of Hamas and Islamic Jihad terror installations in Gaza. An Egypt-brokered ceasefire appeared to have taken effect by Wednesday evening in Israel.
Islamic Jihad initially claimed the barrage was "revenge" for the IDF's elimination of three of its terrorists who were killed while attempting a border attack earlier this week. Putting aside the distorted logic of "revenge" for an attack that Islamic Jihad itself initiated, the Iran-backed terrorist group's excuse simply doesn't fly. The sheer volume of the projectile attacks — the largest volley since the 2014 Israel-Gaza War — was too great for a tit-for-tat "revenge" exchange. The purpose was pure escalation.
IDF Spokesman Brig.-Gen. Ronen Manelis pointed a finger at Iran while stopping short of directly blaming the mullahs. "The Palestinian Islamic Jihad organization is a terrorist organization that is based on Iranian ideology and funding, and today it used Iranian-made weapons," he said.
Brig.-Gen. (res.) Yossi Kuperwasser, the former director-general of Israel's Strategic Affairs Ministry and former chief of the research division in Military Intelligence, went further, saying the attacks were "encouraged by the Iranians."
There can be little doubt that the attacks were directed by Iran, which stands to gain the most from the attacks. It is in the strategic interests of Hamas to avoid a larger confrontation with the IDF. Hamas, which has reportedly been attempting for months to secure a long-term ceasefire, cannot afford another costly war with Israel. Already the terrorist organization is teetering on the brink after its border riots failed to achieve much, and there is widespread and growing anger in Gaza over the territory's all but collapsed economy. However, since Hamas is cash-strapped and needs Iranian patronage, it wouldn't dare oppose Iran's short-term designs to heat up Israel's southern border.
Iran has been humiliated and strategically devastated by Israel's repeated strikes against Iran-run military bases in Syria, and has been feeling the pressure.
Today, Israeli Defense Minister Avigdor Lieberman is on his way to Moscow amid widespread reports that Israel and Russia are finalizing a deal that would see Iran-backed forces removed from the area of Israel's border with Syria. If the deal is finalized, Iran would lose its foothold along the border, positions that have been the source of one of Tehran's main threats against the Jewish state. Iran could be using the Gaza card as a pressure point to secure more from the negotiations.
Iran has been suffering on other fronts. One report claimed that Syrian dictator Bashar al-Assad has restricted the Iranian military from using the regime's air force hangers for fear of further Israeli strikes. Regardless of the accuracy of that report, the Iranians are clearly desperate to secure their remaining positions in Syria following scores of major Israeli bombing raids.
The IDF released satellite photos showing the devastation its warplanes wreaked on Iranian bases during the bombing campaign earlier this month that marked the largest IDF action inside Syria since the 1973 Yom Kippur War. This after Iranian forces in Syria fired a volley of around 20 rockets aimed at IDF positions on the Golan Heights — the first time Iran was accused of directly rocketing Israel.
There have since been more airstrikes in Syria attributed to Israel targeting Iran-run bases. The volleys started after Iran brazenly dispatched an unmanned aerial vehicle (UAV) into Israeli territory in February before it was quickly shot down by the Israeli military. An IDF investigation revealed the Iranian drone, sent from the Iran-run T-4 airbase in Syria, was carrying explosives and seemingly deployed to attack an Israeli target.
Iran doesn't want more Israeli bombardments in Syria, so it must be careful not to provoke another fierce response. Instead, Iran seems to be acting to divert Israel's attention to the Gaza Strip. It is likely heating up the southern border, perhaps even briefly, as both retaliation and a signal to Israel that Iranian proxies can be turned on at will. For now.
Aaron Klein is Breitbart's Jerusalem bureau chief and senior investigative reporter. He is a New York Times bestselling author and hosts the popular weekend talk radio program, "Aaron Klein Investigative Radio." Follow him on Twitter @AaronKleinShow. Follow him on Facebook.
via Breitbart News
Enjoy this article? Read the full version at the authors website: http://www.breitbart.com