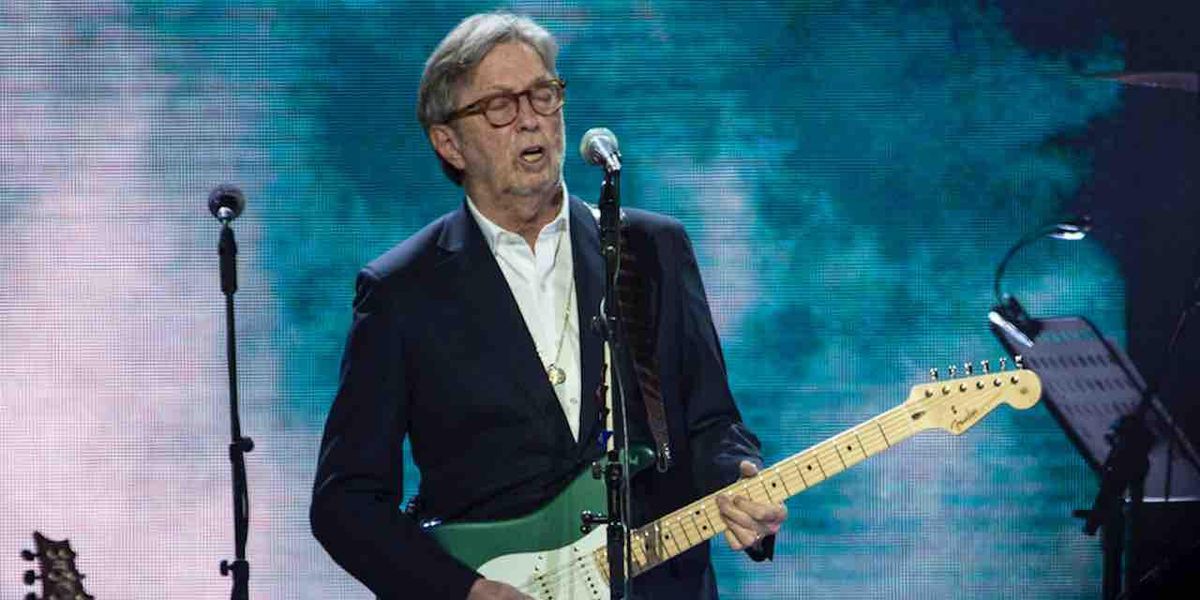 Legendary guitarist Eric Clapton said he suffered "disastrous" side effects from his COVID-19 vaccine treatments and blamed "propaganda" insisting that the shots are safe.
What are the details?
Rolling Stone reported that the 76-year-old musician — known the world over for his stints with the Yardbirds and Cream in the 1960s as well as his long solo career marked by classic songs such as "Layla" and "Wonderful Tonight" — in February got an initial AstraZeneca vaccine shot.
The magazine cited a letter Clapton wrote describing his ordeal to architect and anti-lockdown activist Robin Monotti Graziadei, who shared it with the guitarist's permission. Rolling Stone said it confirmed the authenticity of the letter — but that a Clapton rep didn't immediately respond to its request for comment.
"I took the first jab of AZ and straight away had severe reactions which lasted ten days," Clapton wrote in the letter, according to the magazine. "I recovered eventually and was told it would be twelve weeks before the second one…"
He added that "about six weeks later I was offered and took the second AZ shot, but with a little more knowledge of the dangers. Needless to say the reactions were disastrous, my hands and feet were either frozen, numb or burning, and pretty much useless for two weeks, I feared I would never play again," Rolling Stone said.
Clapton also shared in the letter that he suffers from "peripheral neuropathy and should never have gone near the needle" and that "the propaganda said the vaccine was safe for everyone," the magazine reported.
"I continue to tread the path of passive rebellion and try to tow [sic] the line in order to be able to actively love my family, but it's hard to bite my tongue with what I now know," the guitarist also wrote, according to Rolling Stone.
'Stand and Deliver'
Clapton hit the headlines late last year for a related reason: an anti-lockdown song "Stand and Deliver" — penned by iconic vocalist Van Morrison and recorded and released by Clapton.
As you might imagine the guitarist took a lot of grief from the left over the tune — as did Morrison.
Stand and Deliver by Eric Clapton – Music from The state51 Conspiracy youtu.be
In the letter, Clapton said "I found my voice" after being directed to Morrison and his new music, the magazine reported.
"And even though I was singing his words, they echoed in my heart," Clapton added in his letter, according to Rolling Stone. "I recorded 'Stand and Deliver' in 2020 and was immediately regaled with contempt and scorn."
The magazine noted that Clapton said in a statement last December that accompanied the song: "There are many of us who support Van and his endeavors to save live music; he is an inspiration. We must stand up and be counted because we need to find a way out of this mess. The alternative is not worth thinking about. Live music might never recover."
According to Rolling Stone, Clapton also wrote in his letter that "I've been a rebel all my life, against tyranny and arrogant authority, which is what we have now. But I also crave fellowship, compassion and love… I believe with these things we can prevail."
Anything else?
Last September, a Northern Ireland health minister labeled Morrison's anti-lockdown songs "dangerous." His tunes — "Born to Be Free," "As I Walked Out," and "No More Lockdown" — reportedly targeted the U.K. government for using COVID-19 lockdowns to "enslave" the people.
And he wasn't through by a long shot.
"Remember, those who are shutting down our economy haven't missed a paycheck since lockdown began," Morrison tweeted to his nearly 66,000 followers in December before adding a mocking zinger. "We are not in this together."
via Conservative Review
Enjoy this article? Read the full version at the authors website: https://www.conservativereview.com/